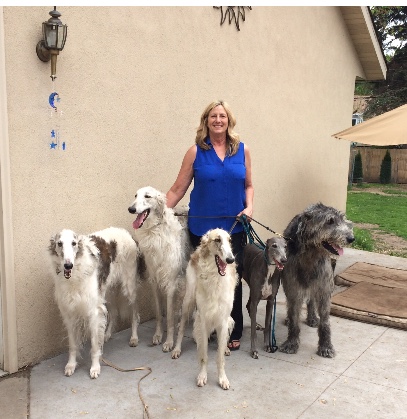 From my very first word ("doggie!") to this very moment, the love of dogs has guided and shaped my life. I've studied and been trained in a wide variety of dog-related passions & professions. Some of my certifications and work experience includes:
Certified Canine Fitness Trainer (CCFT)
Certified Canine Sports Massage Therapist (CSMT)
Veterinary Radiology Technician
Veterinary Surgical Assistant, Treatment and Veterinary Technician
Humane Society
Doggie Day Care
The areas of study that I'm passionate about include:
Dog Obedience and Family-Life Skills Training
Canine Body Conditioning, Exercise, and Fitness
Behavior Adjustment Training
Canine Nutrition
When one of my own dogs showed some stiffness and lack of flexibility, I saw how well massage helped to alleviate his discomfort. I was so impressed by what Canine Sports Massage could do that I set my sights on becoming certified in canine massage therapy. After an extremely thorough 250 hour course, much of it hands-on with many different breeds of dogs, I achieved Supreme Motion's certification of Canine Sports Massage Therapist (CSMT).
Then, as I watched my oldest dog turn 10 years old, I saw how the effects of a few years of agility training and advancing age had left her with rear limb pain and stiffness. Determined to counter-act this, and prevent it in my younger dogs, I enrolled in, and completed, a comprehensive, university credentialed program: Certified Canine Fitness Trainer (CCFT).
Just like humans, a well-conditioned dog typically lives a longer and more active, healthy and pain-free life than a dog who has not been involved in regular fitness and conditioning. Canine Fitness Training and Sports Massage Therapy are perfectly suited to my life's passion. They have all the things I love:
DOGS
Helping to develop fit and healthy DOGS
Meeting DOG people
Together, we can give your dog the advantage of superior health and fitness!